The Ummah of Muhammad is the second Muslim Ummah. The first Muslim Ummah was the Bani Israel. Imam At-Tirmidhi in his Sunan and Imam Abu Dawud in his Sunan on the authority of Abdullah bin Amr: Prophet Muhammed said: "That which came to Bani Israel will verily as well come to my nation as similar to the footstep even if that there was in them (the Bani Israel) who commit with his mother adultery in public as well it would be found in my nation similar to that. And verily the Bani Israel divided into seventy two sects and my nation would divide into seventy three sects all are to hell except one." Bukhari Volume 4, Book 56, Number 662: Narrated Abu Said: The Prophet said, "You will follow the wrong ways, of your predecessors so completely and literally that if they should go into the hole of a mastigure (lizard), you too will go there." We said, "O Allah's Apostle! Do you mean the Jews and the Christians?" He replied, "Whom else?" (Meaning, of course, the Jews and the Christians.) .......................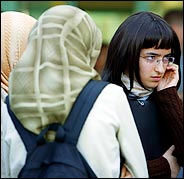 Despite the ban on scarves in public schools in France, some Muslim schoolgirls kept their heads covered yesterday, even with wigs, right.

This is exactly the reason that Jewish women started wearing wigs in Europe!!! Because married Jewish women are commanded to cover their hair, and because Europeans would often either ban outwardly Jewish symbols (head coverings) or just outright kill Jews because they were Jews, they developed the idea of wearing wigs to cover their hair in fullfillment of the commandment, but yet it would not be noticed by the European Gentiles (because the wigs were made of ordinary human hair) in order to save their lives!!!